In This Section
Leigh: Journey to safety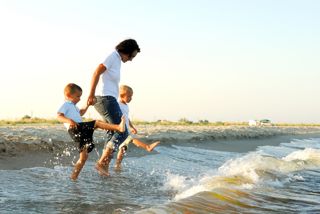 Leigh's* journey to recovery from substance abuse and domestic violence began when she and her two sons escaped from her abusive husband. The local domestic violence shelter referred her for a drug/alcohol evaluation, and she came to St. Monica's for treatment with her two sons.
Leigh was terrified of her husband's reaction to her leaving and taking the children. She was also concerned about having contact with him since he is the father of her youngest son. At St. Monica's she developed a safety plan that included a strategy to allow her husband contact with their son without placing her safety at risk. Every week Leigh attended domestic violence education and support groups and met with a domestic violence specialist. She also met weekly with a parenting specialist and learned new skills for parenting her children.
While in treatment, Leigh addressed her anxiety issues and learned how to calm herself in weekly sessions with her mental health/substance-abuse counselor. She addressed her childhood trauma and her abusive relationship with her husband. She learned how to utilize her strengths to help herself resolve the trauma had experienced. She developed a relapse prevention plan and learned to deal with triggers she would experience.
Leigh completed one year of residential treatment at St. Monica's, developing a regular daily routine and practicing the coping skills she had learned. She secured a part-time job and an apartment before leaving the program. She attended AA/NA groups weekly and found a sponsor. She continues to meet with a counselor weekly and uses the community support program at St. Monica's. She has divorced her husband and remains sober today.
*While our stories come directly from our clients and graduates, names and images have been changed to protect the women's identities.