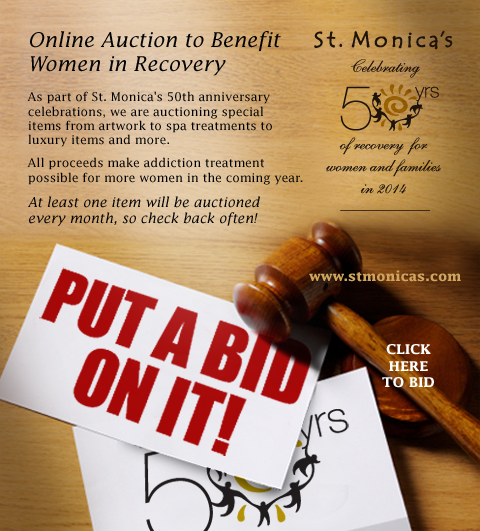 Keenan: 'I'm just so proud of my mom'
Keenan was 15 when her mom, Lisa, came to St. Monica's for her oxycodone addiction. The entire family got involved in family counseling as part of Lisa's treatment.  "It really helped us learn how to talk more openly," Keenan says, noting that before, the family didn't know how to talk about problems without getting into a huge argument.  "Instead of fighting, now we can encourage each another to use our coping skills."
Lisa now spends time with all three of her children at the end of each day to share their successes and problems. She has taught Keenan and her siblings not to use the word can't ~ that they can do anything they put their minds to. Acting as their best example, Lisa is currently working 2 jobs and going to school.
"I really look up to to my mom," Keenan says today. "I'm just so proud of her."
~    ~    ~
Each woman facing addiction has her own story to tell. No two are alike, but they all have something in common: No one can manage recovery alone.
For 50 years, St. Monica's has been helping women overcome addiction, trauma and mental illness. As part of our yearlong celebration, we are sharing 50 stories of success and inspiration from women who have achieved lasting recovery. We'll share a new story every week, so check back often.
Help more women like Keenan's mom achieve recovery: Your gift right now helps women in need today and for the next 50 years!
Are you a St. Monica's success story? We'd love to hear from you!
Read more success stories here. 
Note: All names are pseudonyms to protect client confidentiality.
---
St. Monica's offers a home and help for women struggling with substance abuse or mental health problems. Learn more about who we are and view a list of our programs and services.
---
St. Monica's receives funding from United Way, Region V Mental Health Alcoholism and Drug Abuse Program, the Episcopal Diocese of Nebraska, and generous donors who make recovery possible for hundreds of women and their families each year. Thank you!
---
Like our Facebook page for regular updates! www.facebook.com/stmonicas
---