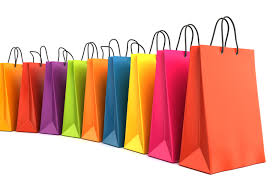 Successful Women Helping Women Succeed
SAVE THE DATE!
Saturday, May 5, 2018
An impressive group of women-owned local businesses are teaming up with St. Monica's, a local non-profit serving women and their children, this Mothers Day.  The goal of the event on Saturday, May 5th is to encourage the community to get out and support these great businesses, as well as the critical work of St. Monica's. Each store will contribute a percentage of their May 5th sales to St. Monica's, making every purchase a smart investment in our community!
We invite you to take advantage of this great opportunity! Knowing that everyone has Weddings, Baby Showers, Graduations and of course Mothers Day coming up, this would be a great opportunity to make our gift-giving really count!
Blu Velvet  - 1265 S. Cotner Blvd; Kelly Merklein
Francie and Finch - 130 S. 13th; Leslie Huerta
Goldenrod Pastries – 3947 S. 48th; Angela Garbacz
Gomez Art Supply – 120 N. 14th; Peggy Gomez
Hi Lites Hair Salon - 3201 Pioneers Blvd. #106; Donna Lucas
Knit-Paper-Scissors – 6701 Vanderslice Cr; Angie Barrett
Loft and Craft – 101 N. 14th; Julian Glasco and Allison Hill
Makit Takit Craft Studio – 4720 Prescott Ave; Christy Nelson
Paint Yourself Silly –  all 3 locations; Jenn Bassen
Paper Kite – 4744 Prescott Ave; Meg Hasselbalch
Pattino Shoe Boutique – 3943 S 48th; Jori McCarville
Select Style – 3945 S. 48th; Meghan Ehrke
Stella Collective - 101 N 14th #7; Julian Glasco and Allison Hill
Uniform Connection – 5740 Old Cheney Rd; Betty Werts, Susie Cerny, Jodi Weedin
---
St. Monica's offers a home and help for women struggling with substance abuse or mental health problems. Learn more about who we are and view a list of our programs and services.
---
St. Monica's receives funding from United Way, Region V Mental Health Alcoholism and Drug Abuse Program, the Episcopal Diocese of Nebraska, and generous donors who make recovery possible for hundreds of women and their families each year. Thank you!
---
Like our Facebook page for regular updates! www.facebook.com/stmonicas
---